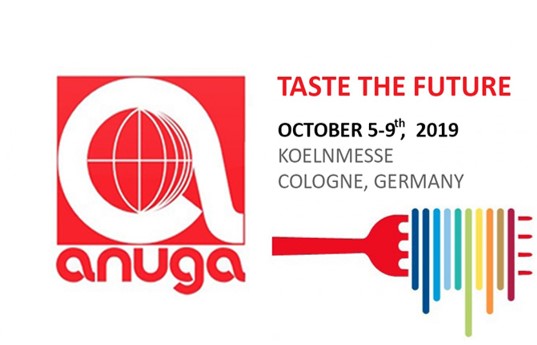 Last week, Food Service Vision visited 2019 Anuga Fair. Anuga is one of the largest trade fair for food and beverages with worldwide food supplier exhibitors. As we went through the 11 halls for one day, 3 transforming food market evolutions stroke us:
Meat alternatives quick development
Strong focus on health & nutrition
Towards more transparency and responsibility
To compare with our last January trend monitoring analysis for 2019 SIRHA show, three influences are particularly put forward on Anuga fair: Naturally Good (organic and enriched food…), Flexitarian and Globalization. Augmented experience of show cooking is less enhanced on this German fair, probably as the fair is as much foodservice as retail or export. For a food supplier in foodservice, the main interests for visiting the Fair is to get inspired by worldwide innovations and evolutions and have the opportunity to meet their customers in a more intimate atmosphere than the SIRHA show.
Meat alternatives quick development
So many solutions are emerging on food markets to meet their specific needs and expectations.
A massive number of meat alternatives suppliers attended the fair – from meat specialists such as Vion that developed their new meat alternative range to pure players such as Mouving Mountains specialized in this market. Most of meat analog products are plant-based, filled and textured thanks to wheat and soy. Insects are also used as a source of protein for meat analog products (see Bugs Foundation and their foodservice burgers and wursts) but far less common.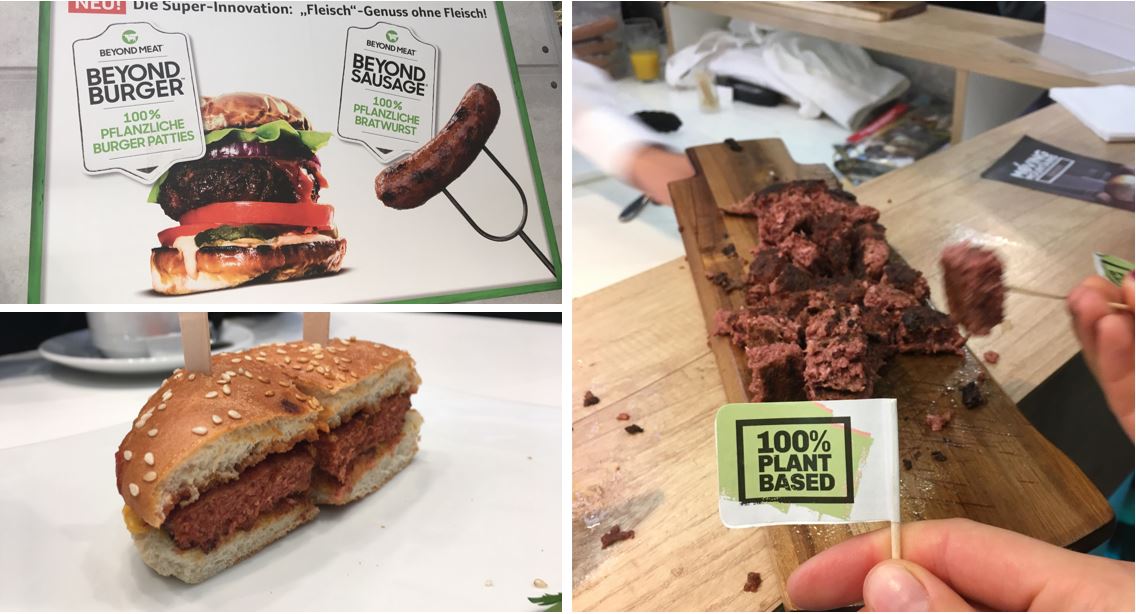 Strong focus on health & nutrition
Suppliers attending the fair focused their communication on answering consumers concerns: What am I eating? How this product is good to my body? How do I balance a flexitarian diet?
2 key points are to put forward to demonstrate how good a product is for consumer's health:
Free from – cleaner recipes that better respect consumer's health: Gluten free, no GMO, phosphate free, no preservatives, no colorants, soy-free muesli, Nitrite free sausages, no chemical additives…
Enriched – specifically chosen ingredients for the final product to be more nutritive: Protein enriched muesli, chips, superfood ingredients…

The need for transparency and responsibility
Environmental concerns encourages Anuga exhibitors towards more transparency. They put the emphasis on providing further information and explications to their customers about what they do, why, how…- and to undertake more responsible actions and projects.
As a proof of the value quality labels is currently bringing to food markets, an entire hall in Anuga is dedicated to organic products.
Other initiatives give evidence of a willingness of more transparency & the proof of responsibility. As a few examples of those:
Impact food – Lycka company dedicates a part of their benefits to food charities
Animal welfare commitments – Many Anuga meat exhibitors commit to respectful/transparent food and life conditions for animals, such as Farmes, Groupo Jorge…
Improved communication from producer to consumer – suppliers tend to provide more transparency and information to consumers to help them understand manufacturing challenges & reassure about quality and processes. Vion Group show us what a cow carcass actually implies – 34% of meat, 13% of fat, 11% of bones… Pandriks give proof of their bakery value chain control. Tönnies make explicit on their packaging that they are using 70% less plastic…
At Food Service Vision we watch out for most impactful market transformations to help our supplier, distributor and chain customers to tackle with tomorrow foodservice challenges.
Don't hesitate to contact us for further information.
---
Written by Maude Chatelain